Belt Pack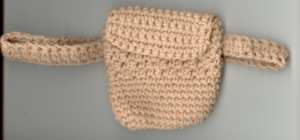 I made this with sugar 'n cream cotton yarn with a G hook. Gauge isn't critical in this project. If it looks too small for your liking, start with a longer chain and/or add some extra rows for height. Do the reverse, if you want it smaller!
The pouch
Chain 16. In the second chain from the hook sc, and sc across.
When you get to the end of the chain, sc three times in the last chain and circle around to the back and sc across. 3 sc in the last chain and spiral up for the next round.
Sc across the first side with 2 sc in the last sc. 2 sc in the first sc of the back side. Then sc across with 2 sc in the last stitch.
Sc in rounds with no increases for 4 rows.
5 rows of sc alternating with dc.
4 more rows of sc.
Then, hdc along one side, chain 2 and turn. Repeat 4 times.
Finish with one row sc.